Overview
10/100/1000 Ethernet Converter to EBR 1553 AS5652 Link and Spec Modes. BC, 8-RT, BM Single Function.
Small, Rugged 13.5x3.7x4cm, 200 grams
Thin-Server, Real-Time IP/UDP Ethernet to/from 1553 EBR **
Remote 1553 EBR Devices on the LAN
BC, 8xRT, BM and Composite Monitor
5-30V DC, 400-700 mAmp (5V) Typical 1 Amp USB Power OK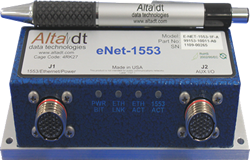 ENET-1553-EBR™ is an innovative product that provides "remoting" of 1553 AS5652 EBR operations on 10/100/1000 Ethernet IP/UDP local area networks (LAN).  ENET-1553-EBR is a small, low-power, rugged device that provides connectivity for up to eight AS5652 RT devices, single BC or composite monitor.
Alta has combined the industry's most advanced 32-bit EBR FPGA protocol engine, AltaCore™, with a real-time IP/UDP thin server. The customer can implement their application with the same feature-rich application programming interface, AltaAPI™, as used with standard cards – often without even recompiling – the utlimate in code portability.
**NOTE: ENET-1553-EBR (server) is a real-time Ethernet/EBR devices, but your computers' (client) IP stack may not be!  The ENET-1553-EBR device provides real-time UDP receive and transmit requests to EBR buffers, but the client's IP/UDP stack will induce path delays as compared to backplane cards. For many applications (<100-1000 packets per second), this product will provide unparalleled flexibility in EBR configurations (much better than USB devices).  . Contact Alta for test results on various OS and computer configurations – your system results may vary.
Optional J1 and J2 Cable Assemblies Provided – Please See Part Numbers Above.


Specifications
Key Features
10/100/1000 Ethernet Converter to EBR 1553 AS5652 Link and Spec Modes. BC, 8-RT, BM Single Function.
Small, Rugged 13.5x3.7x4cm, 200 grams
Thin-Server, Real-Time IP/UDP Ethernet to/from 1553 EBR **
Remote 1553 EBR Devices on the LAN
BC, 8xRT, BM and Composite Monitor
5-30V DC, 400-700 mAmp (5V) Typical 1 Amp USB Power OK
POE Optional
Ideal for Lab or Rugged Deployed Applications
IRIG-B RX Decode, PPS, Triggers, Discretes
Software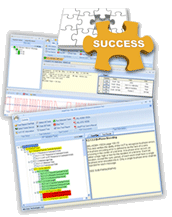 AltaAPI
Alta's 1553 and ARINC cards include the most advanced Application Programming Interface (API) library tools in the avionics industry, AltaAPI. The API architecture is a properly OSI modeled development package that provides an extremely flexible design to provide quick porting to various operating systems (such as VxWorks 5.X/6.X/7/MILS, Integrity, LynxOS RTOS), Linux 2.4-3.X 32/64, Solaris 10, LabVIEW and Windows XP/2003/Vista/7/8/8.1/10