Overview
Single Function BC, 8xRT or Composite Monitor - Link or Spec Modes Supported
AS5652 10Mbit RS-485 Enhanced Bit Rate 1553
Small Mezzanine Card for Embedded or Custom System - 1000 Ethernet Interface
Full Reference Design Details - Easy to Integrate
AltaAPI Software SDK for Almost Any OS - Even DO178
3.3V - 1Amp - 12 grams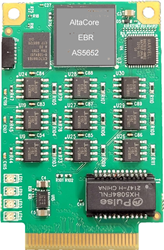 From our popular ENET products, the MEZ-EBR is a small mezzanine card that provides AS5652 (1553 RS-485 10M Enhanced Bit Rate) with a 1000 Ethernet host interface. Single Function BC, 8xRT, or composite BM. This is ideal for custom or embedded systems that need to add AS5652 capabilities to their system. Alta provides full reference design schematics, STEP files, and an optional development card to make integration very easy.
Also included is the AltaAPI SDK with numerous example programs, and with a standard Ethernet UDP interface, the AltaAPI code can be used on almost any platform or operating system, including DO178 software systems.
Below is the optional MEZDEV-E02 reference development card that shows full signal routing, and can be connected to almost any computer for pre-test or application software development. Your software team can have the application developed and tested prior to final hardware integration. The MEZ-EBR sits on the card for complete reference design and test.
See Part Numbers Tab for Details and Break-out Cables.


Specifications
Key Features
Single Function BC, 8xRT or Composite Monitor - Link or Spec Modes Supported
AS5652 10Mbit RS-485 Enhanced Bit Rate 1553
Small Mezzanine Card for Embedded or Custom System - 1000 Ethernet Interface
Full Reference Design Details - Easy to Integrate
AltaAPI Software SDK for Almost Any OS - Even DO178
3.3V - 1Amp - 12 grams
Development Card MEZDEV-E02 for Hardware Reference and Parallel Software Development
LEDs for EBR and Ethernet Activity Routed to Edge Connector
Software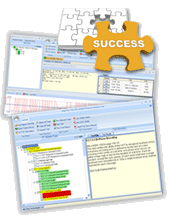 AltaAPI
Alta's 1553 and ARINC cards include the most advanced Application Programming Interface (API) library tools in the avionics industry, AltaAPI. The API architecture is a properly OSI modeled development package that provides an extremely flexible design to provide quick porting to various operating systems (such as VxWorks 5.X/6.X/7/MILS, Integrity, LynxOS RTOS), Linux 32- and 64-bit, Solaris 10, LabVIEW and 32- and 64-bit Windows 7/8/8.1/10.
AltaView Bus Analyzer
Alta's Windows avionics analyzer product, AltaView, provides the most modern technologies for MIL-STD-1553 and ARINC-429 network activity and data analysis. Win XP/Server/7/8/10 Compatible and VMware with ENET/NLINE Ethernet. Ideal for Cybersecurity Testing.

No Seat License or Dongles - Unlimited Software Updates