Overview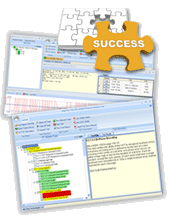 Links to Landing Pages:
AltaView – 1553 (+WMUX & EBR) and ARINC Windows Analyzer
AltaAPI – Modular, OSI Modeled SDK for Alta Products
AltaAPI-LV – AltaAPI LabVIEW Integration Tool
AltaRTVal – 1553 Protocol RT Validation Tool for Design Verification
Quick Reviews Below
Click HERE for 1553 & ARINC Tutorials
Click HERE for 1553 Cybersecurity Design and Test Review
---
AltaView – The Industry's Most Advanced Windows Analyzer Software for 1553 and ARINC
Auto Frequency, Loading, Activity Analysis and Data Displays

Archiving and Playback

Signal Capture/Test

ASCII & CSV Conversion and EU Processing!

No Seat/Node License

Ideal for Cyber Testing

No Annual License Fees Free Updates

Server 8/12, 7/8/10

Vmware with ENETs/NLINE-E1553.

Runs on Any Enabled Alta Product

Many Free Features for All Users
---
AltaAPI – Software Development Kit (no cost)
What Makes AltaAPI Different Than All Other 1553 and ARINC SDKs?
The OSI Layered Model Provides Maximum Portability

The same executable program can run on any alike Alta channel or device

The Layer 0 and Layer 1 Simplify and Protect Memory Objects

AltaAPI abstracts low-level hardware pointers and registers for safer code

AltaAPI provides memory management and object boundary protection

Excellent Documentation and Example Program Templates

Significant Reduction in Development Time and Future Maintenance

100s of Example Programs for Almost Any Application
---
AltaAPI-LV Software (no-cost) Allows Integration of Alta Devices with National Instruments LabVIEW,  LabVIEW Real-Time and Veristand systems.
AltaAPI-LV provides a set of controls and sub-VI files corresponding to the standard AltaAPI (Layer 1) functions.

AltaAPI-LV also provides DLL files (for AltaAPI Layer 1 and for AltaAPI Layer 0 for NI-VISA) built in the LabWindows/CVI environment specifically for compatibility with both Microsoft Windows and LabVIEW Real-Time.

The AltaAPI-LV DLLs provide a unified NI support package across LabVIEW, LabVIEW–RT and LabWindows/CVI.

Dozens of Examples to Kick Start Development

Easily Import VIs to Veristand Applications
---
AltaRTVal – Validation Tool for 1553 RTs According to SAE AS4111 5.2 Protocol Testing
Easy to Setup & Execute
Nearly 100% Automated

Generates Test Verification Records

Detailed Failure Analysis

Online Reference to – MIL-HDBK-1553A

Requires Two-Channel – Full Function 1553 Card or TBOLT