Overview
1-2 Full Featured, Dual Redundant 1553 Channels. Rugged NLINE Packaging.
Auto-Bridge 1553 BM Messages to UDP Ethernet without Programming
6 RX Avionics Discretes for General Use or 1760 RT Addressing
MIL-810G Shock/Vibe/Temp, 810-512.6 Water Immersion, and MIL-461F EMC Test Reports
5-32 VDC, 500-1500 mAmp 5V typical. 6W max with 2 channels 100% TX. Conditioned Power Required.
Commercial or Ext Temp (-40 to +85C) Parts Available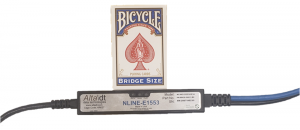 An amazing, small, rugged, In-Line 1553 Ethernet Converter: NLINE-E1553(tm). We've embedded our industry-leading AltaCore-1553 protocol engine technology directly into a rugged, MIL-810G/461F cable assembly. Programming of the device is just like any other Alta product with all the advanced BC, RT and BM Controls, and simplified programming using the AltaAPI software development kit – you can even run your existing application without re-compile, just as with ENET products. Real-Time 1553-Ethernet conversion (<20 uSec) and even auto 1553 BM to Ethernet without any programming (auto 1553 to UDP conversion).
Almost every avionics or communication system implements an Ethernet topology, but most 1553 Ethernet converter products are processor/Linux based with unsecure IP network stacks that greatly slow down Ethernet communications. ENET and NLINE designs are FPGA hardware-based UDP thin servers that provide real-time Ethernet/1553 bridging/conversion, reducing threats of viruses or internal hacking. These products provide all the advanced controls of traditional 1553 interfaces, and can simultaneously auto bridge time-stamped 1553 UDP packets without any programming. There is a fast auto-boot feature where 1553 and MIL-1760 RX controls can be managed through standard socket communications as implemented in almost every OS, even DO-178 compliant systems.
On the computer side, are rugged, over-molded RJ-45 Ethernet and USB plug power connectors. On the 1553 side, is a quick disconnect Lemo connector with optional 1553 jack connector (BJ77) cable assemblies (for 1 or 2 channels and optional DB15 for triggers, avionics RX discretes, IRIG RX, etc…). See Part Numbers tab for optional cable part numbers. See below for example cabling. The product is designed to accommodate various connectors for your custom requirements – contact Alta for details.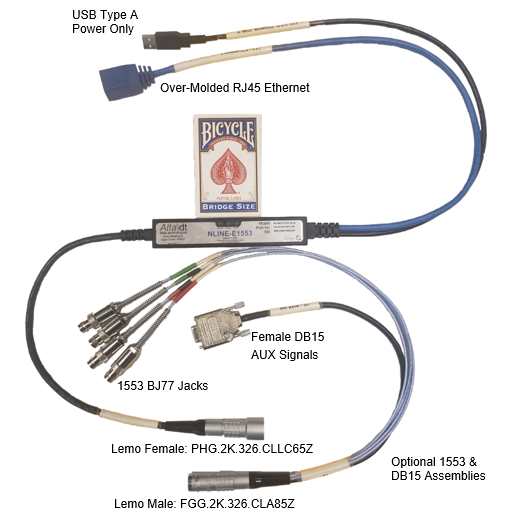 Signal Capture circuitry is included on the first channel for cable troubleshooting and cybersecurity modeling.  The example captures below are shown with our AltaView analyzer, or integrate captures in your application with AltaAPI SDK (included):


Specifications
Key Features
1-2 Full Featured, Dual Redundant 1553 Channels. Rugged NLINE Packaging.
Auto-Bridge 1553 BM Messages to UDP Ethernet without Programming
6 RX Avionics Discretes for General Use or 1760 RT Addressing
MIL-810G Shock/Vibe/Temp, 810-512.6 Water Immersion, and MIL-461F EMC Test Reports
5-32 VDC, 500-1500 mAmp 5V typical. 6W max with 2 channels 100% TX. Conditioned Power Required.
Commercial or Ext Temp (-40 to +85C) Parts Available
Signal Capture for Cable/Security Testing on First Channel
Optional Standard Cable Assemblies, and Custom (e.g. 38999) Assemblies Available
SAE AS4111 5.2 RT Validation Tested - Report Available
Dual (BC/BM or mRT/BM) and Full (BC, mRT and BM) Function Models Available
Same AltaAPI SDK Development - Standard Socket Interface for Maximum Portability to Almost Any OS
Software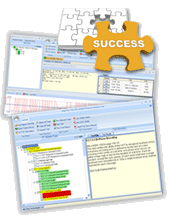 AltaAPI
Alta's 1553 and ARINC cards include the most advanced Application Programming Interface (API) library tools in the avionics industry, AltaAPI. The API architecture is a properly OSI modeled development package that provides an extremely flexible design to provide quick porting to various operating systems (such as VxWorks 5.X/6.X/7/MILS, Integrity, LynxOS RTOS), Linux 32- and 64-bit, Solaris 10, LabVIEW and 32- and 64-bit Windows 7/8/8.1/10.
AltaView Bus Analyzer
Alta's Windows avionics analyzer product, AltaView, provides the most modern technologies for MIL-STD-1553 and ARINC-429 network activity and data analysis. Win XP/Server/7/8/10 Compatible and VMware with ENET/NLINE Ethernet. Ideal for Cybersecurity Testing.

No Seat License or Dongles - Unlimited Software Updates
AltaAPI-LV
Most of Alta's MIL-STD-1553 & ARINC products include the industry's most advanced National Instruments' LabVIEW™ & RT Support Tools, AltaAPI-LV. Built-in native NI LabWindows™ environment and PCI VISA drivers, Alta's AltaAPI-LV provides a unified NI tool for easy integration to LabVIEW, RT, and LabWindows™ applications. Easily port native DLLs for Testbench or VIs for Veristand.
Accessories
Part Number
Description
Picture
BusCab-180-001
180 Inches - M17 Cable with 3-Slot Male Connectors
BusCab-36-001
36 Inches - M17 Cable with 3-Slot Male Connectors
BusCab-72-001
72 Inches - M17 Cable with 3-Slot Male Connectors
BusCoupler-1-001
Single Stub Bus Coupler
BusCoupler-2-001
Dual Stub Bus Coupler
BusCoupler-4-001
Quad Stub Bus Coupler
BusKit-1B2T-001
2 x Single Stub Couplers
2 x 78 Ohm Terminators with 3-Slot Male Connectors
3 x 15ft Lab Grade Cables with 3-Slot Male Connectors
BusKit-1B4T-001
2 x Dual Stub Couplers
2 x 78 Ohm Terminators with 3-Slot Male Connectors
5 x 15ft Lab Grade Cables with 3-Slot Male Connectors
Part Numbers
| | Part Number | Description |
| --- | --- | --- |
| | NLINE-E1553-1D | Ethernet In-Line Appliance with One Channel of Dual Redundant MIL-STD-1553 with Dual Function (BC/Mon or mRT/Mon) Capability. |
| | NLINE-E1553-1F | Ethernet In-Line Appliance with One Channel of Dual Redundant MIL-STD-1553 with Full Function (BC/mRT and Mon) Capability. |
| | NLINE-E1553-2D | Ethernet In-Line Appliance with Two Channels of Dual Redundant MIL-STD-1553 with Dual Function (BC/Mon or mRT/Mon) Capability. |
| | NLINE-E1553-2F | Ethernet In-Line Appliance with Two Channels of Dual Redundant MIL-STD-1553 with Full Function (BC/mRT and Mon) Capability. |
| | Optional 1553/AUX Cable Assemblies | |
| | NLCAB-1553-P1-1-01 | NLINE P1-Lemo Cable Assembly with One Channel of 1553 3-Lug BJ77 Stub Connectors. |
| | NLCAB-1553-P1-2-01 | NLINE P1-Lemo Cable Assembly with Two Channels of 1553 3-Lug BJ77 Stub Connectors. |
| | NLCAB-1553-P1-1-AUX01 | NLINE P1-Lemo Cable Assembly with One Channel of 1553 3-Lug BJ77 Stub Connectors and DB15 AUX Connector. |
| | NLCAB-1553-P1-2-AUX01 | NLINE P1-Lemo Cable Assembly with Two Channels of 1553 3-Lug BJ77 Stub Connectors and DB15 AUX Connector. |
| | NLCON-J1-01 | Lemo FGG.2K.326.CLA85Z Male Connector |
| | Options: | Example NLINE-E1553-2F-ADEIN |
| | -A | AltaView SW Enabled |
| | -D | Direct Coupling (Price Per Channel) |
| | -E | Extended Temp (-40 to 85 Indust Components) |
| | -I | Tx Inhibit (BM Function Only) |
| | -N | NVRAM Write Disabled |
| | | |