Overview
3 or 4 Independent, Dual Redundant 1553 Buses Ethernet Converter
Ideal for BM/Playback and Light-Moderate BC/RT Operations (<50% Bus Loading All Channels)
Remote 1553 Devices on the LAN – Small Size, Rugged
Ideal for Lab or Rugged Deployed Applications
14.2 x 7 x 3.5cm, 280g without cabling
Auto start for 1553 UDP Broadcasts - No Setup Programming!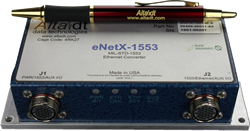 ENETX-1553™ is an innovative product that provides "remoting" of 1553 operations on 10/100/1000 Ethernet IP/UDP local area networks (LAN).  ENETX-1553 is a small, low-power, rugged device that provides real-time Ethernet connectivity to for three or four dual redundant 1553 (A/B) buses (channels). Ideal for remoting 1553 connections for in-field applications or point-point lab usage. AltaAPI provides and highly portable BSD SDK and National Instruments LabVIEW and LabWindows.  ENET products are unique in the market as they have a hardware, FPGA real-time UDP engine – no OS or IP stacks – provides maximum throughput and ultimate virus protection.
For 1-2 Channels, Please See ENET-MA4 or ENETX-MA4. – These are smaller, Less Expensive Units.
J1 and J2 Cables Optional – See Part Numbers Tab
For 1-2 Channel Applications, Please see ENET2-1553 or ENET-MA4 Products.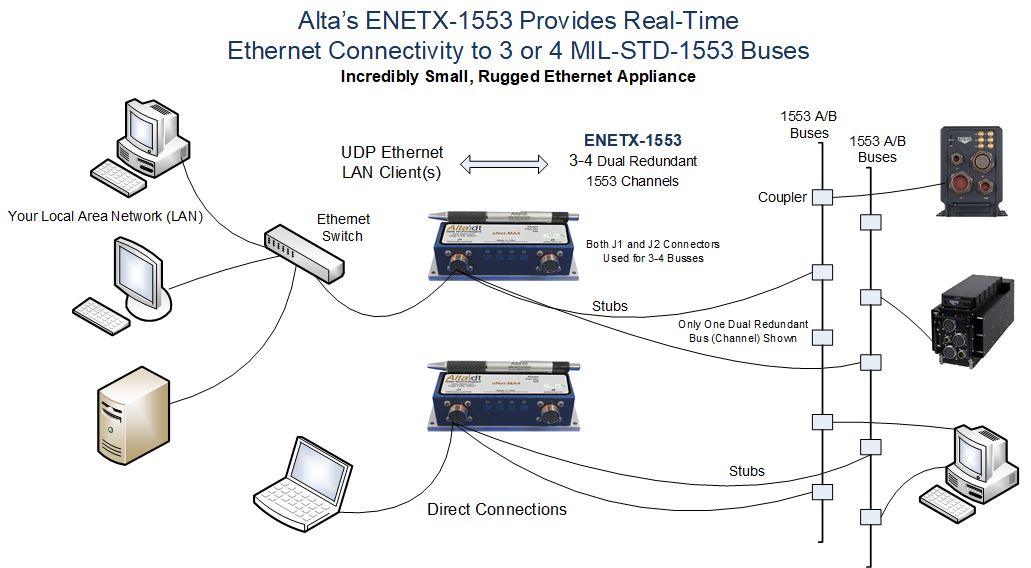 Specifications
Key Features
3 or 4 Independent, Dual Redundant 1553 Buses Ethernet Converter
Ideal for BM/Playback and Light-Moderate BC/RT Operations (<50% Bus Loading All Channels)
Remote 1553 Devices on the LAN – Small Size, Rugged
Ideal for Lab or Rugged Deployed Applications
14.2 x 7 x 3.5cm, 280g without cabling
Auto start for 1553 UDP Broadcasts - No Setup Programming!
Highly Portable BSD Socket Layer for Almost Any Operating System (OS).
5-32 VDC Conditioned Power - USB 5V, 3A
Extended Temp Parts with –E Option
MIL-STD-1553/1553B Notice II & IV, MIL-STD-1760, Link 16
Advanced Startup, User and Continuous BIT
IP-V4 - Static, Programmable IP Addressing
Software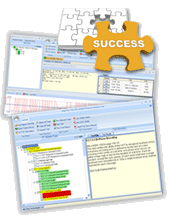 AltaAPI
Alta's 1553 and ARINC cards include the most advanced Application Programming Interface (API) library tools in the avionics industry, AltaAPI. The API architecture is a properly OSI modeled development package that provides an extremely flexible design to provide quick porting to various operating systems (such as VxWorks 5.X/6.X/7/MILS, Integrity, LynxOS RTOS), Linux 32- and 64-bit, Solaris 10, LabVIEW and 32- and 64-bit Windows 7/8/8.1/10.
AltaView Bus Analyzer
Alta's Windows avionics analyzer product, AltaView, provides the most modern technologies for MIL-STD-1553 and ARINC-429 network activity and data analysis. Win XP/Server/7/8/10 Compatible and VMware with ENET/NLINE Ethernet. Ideal for Cybersecurity Testing.

No Seat License or Dongles - Unlimited Software Updates
AltaAPI-LV
Most of Alta's MIL-STD-1553 & ARINC products include the industry's most advanced National Instruments' LabVIEW™ & RT Support Tools, AltaAPI-LV. Built-in native NI LabWindows™ environment and PCI VISA drivers, Alta's AltaAPI-LV provides a unified NI tool for easy integration to LabVIEW, RT, and LabWindows™ applications. Easily port native DLLs for Testbench or VIs for Veristand.
Accessories
Part Number
Description
Picture
BusKit-1B2T-001
2 x Single Stub Couplers
2 x 78 Ohm Terminators with 3-Slot Male Connectors
3 x 15ft Lab Grade Cables with 3-Slot Male Connectors
BusKit-1B4T-001
2 x Dual Stub Couplers
2 x 78 Ohm Terminators with 3-Slot Male Connectors
5 x 15ft Lab Grade Cables with 3-Slot Male Connectors
Part Numbers
| | Part Number | Description |
| --- | --- | --- |
| | ***See Cable Options Below*** | |
| | ENETX-1553-3D | ENETX Appliance with Three Channels of Dual Redundant MIL-STD-1553 with Dual Function (BC/Mon or mRT/Mon) Capability. Included:AltaAPI Software. |
| | ENETX-1553-3F | ENETX Appliance with Three Channels of Dual Redundant MIL-STD-1553 with Full Function (BC/mRT and Mon) Capability. Included:AltaAPI Software. |
| | ENETX-1553-4D | ENETX Appliance with Four Channels of Dual Redundant MIL-STD-1553 with Dual Function (BC/Mon or mRT/Mon) Capability. Included:AltaAPI Software. |
| | ENETX-1553-4F | ENETX Appliance with Four Channels of Dual Redundant MIL-STD-1553 with Full Function (BC/mRT and Mon) Capability. Included:AltaAPI Software. |
| | Optional Cables | |
| | ENETXCAB-1553-J1-01 | Third 1553 Channel Mini DB26 USB Power |
| | ENETXCAB-1553-J1-02 | Third and Forth 1553 Channels Mini DB26 USB Power |
| | ENETXCAB-MA4-J2-02 | First Two Channels 1553 Ethernet RJ45 & Mini DB26 |
| | ENETCON-J1-01 | ENET J1 Mating Connector 801-007-16M10-26PA |
| | ENETCON-J2-01 | ENET J2 Mating Connector 801-007-16M10-26PB |
| | ENETDCAP-J2-01 | ENETX-J2 Dust Cap 667-218-M-N10 |
| | ENETDCAP-J2-01 | ENETX-J2 Dust Cap 667-218-M-N10 |
| | Options: | Example ENETX-1553-2F-AEFIN |
| | -A | AltaView SW Enabled |
| | -D | Direct Coupling |
| | -E | Extended Temp (-40 to 85 Indust Components) |
| | -F | Conformal Coating |
| | -I | Tx Inhibit (BM Function Only) |
| | -N | NVRAM Write Disabled |