Overview
Intuitive Window's Analyzer for 1553, ARINC and WMUX
Seamless Multi Protocol (1553 and ARINC) Support. Only Analyzer with Hardware Signal Viewing!
XML Setup Files with Schema - Easily Import and Change ICD Setup & EU Data Information
Comprehensive View of Bus Activity, Error Detection and Traffic/Loading Statistics. Full Data Archiving to Hard Disk with Filter and ASCII Conversion Utilities
Full Monitor, BC, RT, RX/TX ARINC and Playback Operations
Error Injection/Detection Capability
Please see the Documents Tab for Data Sheet and Detailed Presentation Reviews of AltaView for ARINC (A429) and MIL-STD-1553 Products.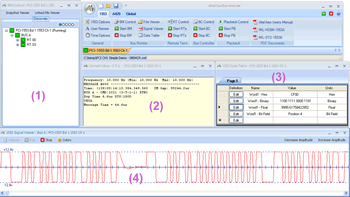 Key Real-Time Bus Monitor/ARINC RX Features
= Auto Discovery and Sorting of of Network/Bus Traffic & ARINC Labels
= Real-Time Displays of Data/Packets. Multi Windows of Real-TIme Displays
= EU Data & Equipment ID Tables for System Parameters. 1-N Tabs of Multi Parameters.
= Signal Capture of First 1553 Channel and First 2 ARINC RX Channels – Industry First for Standard Cards!
(Not on PMC-1553 or PC104P-1553 Cards)
Full XML Interface for Setup, ICD and ARINC Equipment Labels!
More Key Bus Monitor/ARINC RX Features
Full Archiving and Snapshot Monitoring with Filters and Triggers Events
Powerful Search and Filter Tool. Quickly find Simple or Complex Protocol, Data, Error or Time Events. Use Search tool to Filter Events and Convert to ASCII (Mon or CSV) File
Statistical Counters for All Major1553 Protocol Level and Error Events
ARINC RX Data Tables, Period Time Displays and Label EU Decode from XML File (Industry First!).
Complete 1553 BC and ARINC TX Functions
Full Frequency/Framing Control
Multiple Message and Label Lists. Multi Data Buffers and Labels per Transmissions.
Full Error Injection and ARINC Transmission Control (Bit Rates, Encoding, Parity, etc..)
ARINC TX Label EU Selection from XML File Definitions.
Easy to Setup 1553 RT Functions
Simulate all RTs with Data Wrap with Two Key Clicks!
Define Individual RT SA Multi Buffers. Full Legalization to Word Count Level.
Complete Error Injection Controls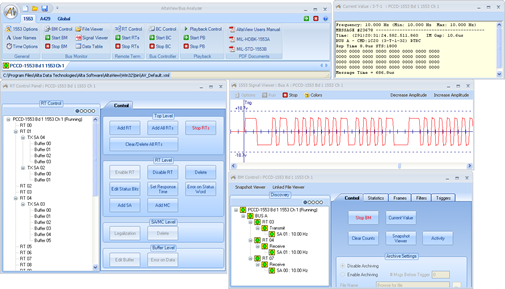 Specifications
Key Features
Intuitive Window's Analyzer for 1553, ARINC and WMUX
Seamless Multi Protocol (1553 and ARINC) Support. Only Analyzer with Hardware Signal Viewing!
XML Setup Files with Schema - Easily Import and Change ICD Setup & EU Data Information
Comprehensive View of Bus Activity, Error Detection and Traffic/Loading Statistics. Full Data Archiving to Hard Disk with Filter and ASCII Conversion Utilities
Full Monitor, BC, RT, RX/TX ARINC and Playback Operations
Error Injection/Detection Capability
Independent Channel Operations – Run AltaView on one channel while running your application on another channel.
LAN Capability – Run on the data Server and View/Control from LAN Client
IRIG-B and Ext Clock Synchronization for Time Stamps and Playback
Excellent Documentation with 1553/ARINC Standard References and XML Setup Files
AltaView Full Functionality is Purchased. Basic BM/RX and BC/TX Functions are Provided at No Cost
Win XP/Server/7/10 Compatible.
Videos
Click on the video players below to view demo videos of AltaView Bus Analyzer. For optimal viewing, click the full screen button

on the player to maximize the video window.
Alta View ARINC

Alta View 1553