Overview
4-8 Channels: Up to 4 Shared RX/TX and 4 RX Channels. PCMCIA/PCCARD and Express Card 54mm.
Commercial and Extended Temp Models
Rugged, Thumb-Screw Locking Connector Standard
**Signal Capture on Two RX Channels - Standard**
One MByte, 32-bit RAM
Up to 2 ARINC 717 RX and TX Channels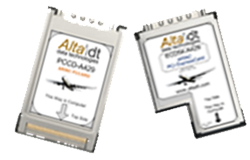 Alta Data Technologies' PCCD-A429 & ECD54-A429 interface modules offer a variety of ARINC-419/429/575/573/717 channel configurations with software selectable RX/Tx channels, baud rates, bit encoding and word configurations (Start/Sync/Stop length, Parity, bits/word, MSB/LSB).
Encode or decode almost any ARINC-429 physical layer signal.
The PCCD-A429 & ECD54-A429 cards is based on the industry's most advanced 32-bit ARINC FPGA protocol engine, AltaCore™, and a feature-rich application programming interface, AltaAPI™, which is a multi-layer ANSI C and Windows .NET 2.0 (MSVS 2005 C++, C#, VB .NET) architecture. This hardware and software package provides increased system performance and flexibility while reducing integration time.
The PCCD-A429 & ECD54-A429 Transmit (TX) capability includes both simple and complete frequency control options for each channel. TX also includes Playback and Signal Generator operations. Dual Receive (RX) functions include independent simultaneous channel level buffering and multi channel level buffering. AltaCore is guaranteed ARINC-419/429/575/573/717 compliant and all cards are manufactured to the highest IPC-Level 3 standards and ISO 9001: 2008 processes. Alta is committed to provide each customer with a risk free integration and will help with any level of your system development.


Specifications
Key Features
4-8 Channels: Up to 4 Shared RX/TX and 4 RX Channels. PCMCIA/PCCARD and Express Card 54mm.
Commercial and Extended Temp Models
Rugged, Thumb-Screw Locking Connector Standard
**Signal Capture on Two RX Channels - Standard**
One MByte, 32-bit RAM
Up to 2 ARINC 717 RX and TX Channels
Dual Temperature Sensors
Dual Temperature Sensors
Full TX Frequency Control and Buffering Per Channel
Programmable Bit Rate (500-200K), Bit Encoding, Bits Per Word, Start/Stop and Parity
Encode/Decode Almost Any ARINC-429 PHY Signal
Start-up, Loop-Back, User and Periodic BIT
Digital Signal Generator - Fully Test Bit Encoding
Advanced AltaAPI and AltaView Analyzer GUI
NOTE: On shared channels: TX lines have an extra RX load; when powered-off, RX channels can have severe voltage drain – use only dedicated RX channels for critical systems.
Software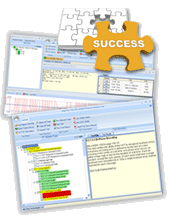 AltaAPI
Alta's 1553 and ARINC cards include the most advanced Application Programming Interface (API) library tools in the avionics industry, AltaAPI. The API architecture is a properly OSI modeled development package that provides an extremely flexible design to provide quick porting to various operating systems (such as VxWorks 5.X/6.X/7/MILS, Integrity, LynxOS RTOS), Linux 32- and 64-bit, Solaris 10, LabVIEW and 32- and 64-bit Windows 7/8/8.1/10.
AltaRTVal
AltaRTVal provides the most advanced MIL-STD-1553 COTS protocol validation tool in the industry, and helps prepare for Test Systems Inc Full SAE 4111 Validation. The software implements protocol tests for both the SAE AS4111 RT Validation Test Plan and the SAE AS4112 RT Production Test Plan. Ideal for testing new software revisions of current designs or manufacturing production units.
AltaView Bus Analyzer
Alta's Windows avionics analyzer product, AltaView, provides the most modern technologies for MIL-STD-1553 and ARINC-429 network activity and data analysis. Win XP/Server/7/8/10 Compatible and VMware with ENET/NLINE Ethernet. Ideal for Cybersecurity Testing.

No Seat License or Dongles - Unlimited Software Updates
Part Numbers
| | Part Number | Description |
| --- | --- | --- |
| | PCCD-A429-4 | PCCard/PCMCIA Interface with 4 Shared Tx/Rx Channels of ARINC-429 and 2 Rx/2 Tx ARINC-717 Selectable Channels (Each 717 Rx/Tx Replaces Two 429 Channels). Included: PCCDCAB-A429-01 Mating Connector and AltaAPI Software. |
| | PCCD-A429-8 | PCCard/PCMCIA Interface with 8 Shared Tx/Rx Channels of ARINC-429 and 2 Rx/2 Tx ARINC-717 Selectable Channels (Each 717 Rx/Tx Replaces Two 429 Channels). Included: PCCDCAB-A429-01 Mating Connector and AltaAPI Software. |
| | ECD54-A429-4 | ExpressCard (54mm 1 Lane) with 4 Shared Tx/Rx Channels of ARINC-429 and 2 Rx/2 Tx ARINC-717 Selectable Channels (Each 717 Rx/Tx Replaces Two 429 Channels). Included: PCCDCAB-A429-01 Mating Connector and AltaAPI Software. |
| | ECD54-A429-8 | ExpressCard (54mm 1 Lane) with 8 Shared Tx/Rx Channels of ARINC-429 and 2 Rx/2 Tx ARINC-717 Selectable Channels (Each 717 Rx/Tx Replaces Two 429 Channels). Included: PCCDCAB-A429-01 Mating Connector and AltaAPI Software. |
| | Options | Example: PCCD-A429-8-AE |
| | -A | AltaView SW Enabled |
| | -E | Extended Temp (-40 to 85 Indust Components) |