Overview
1-4 Independent, Dual Redundant (A/B) MIL-STD-1553 Channels. Standard Half Size PCIe
Dual Function (BC/Mon or mRT/Mon) or Full Function (BC/mRT/Mon)
One Mbyte of Memory per Channel
Variable Voltage 1553 TX Optional
Fully Compliant to MIL-STD-1553B Notice II/IV, MIL-STD-1760,1553A and Link-16
Commercial or Industrial Extended Temperature Parts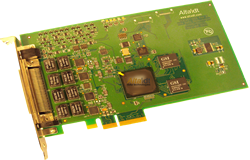 Alta Data Technologies' PCIE4L-1553  interface module is a multi-channel (1-4), ½ size, 4 Lane PCI Express 1553 card supported by the latest software technologies.  The PCI Express card is based on the industry's most advanced 32-bit 1553 FPGA protocol engine, AltaCore™, and by a feature-rich application programming interface, AltaAPI™, which is a multi-layer ANSI C  and Windows .NET (MSVS 2005/08/10 C++, C#, VB .NET) architecture.  This hardware and software package provides increased system performance and reduces integration time.
AltaCore-1553 is guaranteed 1553B Notice II & IV compliant and all cards are manufactured to the highest IPC-Level 3 standards and ISO 9001:2008 processes. Cards are available in dual-function (BC/Mon or multi-RT/Monitor) or full-function (BC, mRT and Mon) configurations. Playback and Signal Generation are part of BC operations. Alta is committed to a risk free integration and will be glad to help with any level of your system development.
Optional Cable Assemblies to 1553 Jack Connectors and AUX I/O Can Be Provided – Please See Part Numbers.
Signal Capture circuitry is included on the first channel for cable troubleshooting and cybersecurity modeling.  The example captures below are shown with our AltaView analyzer, or integrate captures in your application with AltaAPI SDK (included):


Specifications
Key Features
1-4 Independent, Dual Redundant (A/B) MIL-STD-1553 Channels. Standard Half Size PCIe
Dual Function (BC/Mon or mRT/Mon) or Full Function (BC/mRT/Mon)
One Mbyte of Memory per Channel
Variable Voltage 1553 TX Optional
Fully Compliant to MIL-STD-1553B Notice II/IV, MIL-STD-1760,1553A and Link-16
Commercial or Industrial Extended Temperature Parts
**One Channel of A/D Signal Capture – View 1553 Waveforms with AltaView!**
8-bit, 50 nSec A/D for Voltage Measurements
Advanced 32-bit BC, RT and Monitor FPGA Design – Full 32 bit Memory.
BC Framing/Subframing/Aperiodic
Common Data Packets (CDP) for BC, RT and Monitor – Complete Message Info
Advanced, Multi-layer AltaAPI Provided at No Cost with Source Code
Windows, Linux, RTOS, LabVIEW & RT
.NET Managed DLLs
Contact Factory for Latest RTOS Support
True HW Playback – HW Sync Channels
Industry First: 20ns Signal Generation
Bit Construction – 1553 PHY TX
Supports RT Validation Testing
IRIG-B RX PAM or RX/TX PPS Ext Clock
Avionics Level & RS-485 Discretes/Clk
1760 Ext RT Addressing
Advanced BIT Features and Dual Temperature Sensors
1/2 Size, 4 Lane PCI Express 1.1
MSI & Regular HW Interrupt Support
Software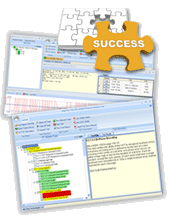 AltaAPI
Alta's 1553 and ARINC cards include the most advanced Application Programming Interface (API) library tools in the avionics industry, AltaAPI. The API architecture is a properly OSI modeled development package that provides an extremely flexible design to provide quick porting to various operating systems (such as VxWorks 5.X/6.X/7/MILS, Integrity, LynxOS RTOS), Linux 32- and 64-bit, Solaris 10, LabVIEW and 32- and 64-bit Windows 7/8/8.1/10.
AltaAPI-LV
Most of Alta's MIL-STD-1553 & ARINC products include the industry's most advanced National Instruments' LabVIEW™ & RT Support Tools, AltaAPI-LV. Built-in native NI LabWindows™ environment and PCI VISA drivers, Alta's AltaAPI-LV provides a unified NI tool for easy integration to LabVIEW, RT, and LabWindows™ applications. Easily port native DLLs for Testbench or VIs for Veristand.
AltaRTVal
AltaRTVal provides the most advanced MIL-STD-1553 COTS protocol validation tool in the industry, and helps prepare for Test Systems Inc Full SAE 4111 Validation. The software implements protocol tests for both the SAE AS4111 RT Validation Test Plan and the SAE AS4112 RT Production Test Plan. Ideal for testing new software revisions of current designs or manufacturing production units.
AltaView Bus Analyzer
Alta's Windows avionics analyzer product, AltaView, provides the most modern technologies for MIL-STD-1553 and ARINC-429 network activity and data analysis. Win XP/Server/7/8/10 Compatible and VMware with ENET/NLINE Ethernet. Ideal for Cybersecurity Testing.

No Seat License or Dongles - Unlimited Software Updates
Accessories
Part Number
Description
Picture
BusKit-1B2T-001
2 x Single Stub Couplers
2 x 78 Ohm Terminators with 3-Slot Male Connectors
3 x 15ft Lab Grade Cables with 3-Slot Male Connectors
BusKit-1B4T-001
2 x Dual Stub Couplers
2 x 78 Ohm Terminators with 3-Slot Male Connectors
5 x 15ft Lab Grade Cables with 3-Slot Male Connectors
Part Numbers
| | Part Number | Description |
| --- | --- | --- |
| | NOTE->> | Please Also Select the Appropriate Cable Assembly at the Bottom |
| | PCIE4L-1553-1F-T | PCI Express Interface (4 Lane) with One Channel of Dual Redundant MIL-STD-1553 with Full Function (BC/mRT and Mon) Capability. Included: Thumb Screw SCSI I/O Connector (Must Use -T Series Mating Connector) and AltaAPI Software. |
| | PCIE4L-1553-2F-T | PCI Express Interface (4 Lane) with Two Channels of Dual Redundant MIL-STD-1553 with Full Function (BC/mRT and Mon) Capability. Included: Thumb Screw SCSI I/O Connector (Must Use -T Series Mating Connector) and AltaAPI Software. |
| | PCIE4L-1553-3F-T | PCI Express Interface (4 Lane) with Three Channels of Dual Redundant MIL-STD-1553 with Full Function (BC/mRT and Mon) Capability. Included: Thumb Screw SCSI I/O Connector (Must Use -T Series Mating Connector) and AltaAPI Software. |
| | PCIE4L-1553-4F-T | PCI Express Interface (4 Lane) with Four Channels of Dual Redundant MIL-STD-1553 with Full Function (BC/mRT and Mon) Capability. Included: Thumb Screw SCSI I/O Connector (Must Use -T Series Mating Connector) and AltaAPI Software. |
| | PCIE4L-1553-1D-T | PCI Express Interface (4 Lane) with One Channel of Dual Redundant MIL-STD-1553 with Dual Function (BC/Mon or mRT/Mon) Capability. Included: Thumb Screw SCSI I/O Connector (Must Use -T Series Mating Connector) and AltaAPI Software. |
| | PCIE4L-1553-2D-T | PCI Express Interface (4 Lane) with Two Channels of Dual Redundant MIL-STD-1553 with Dual Function (BC/Mon or mRT/Mon) Capability. Included: Thumb Screw SCSI I/O Connector (Must Use -T Series Mating Connector) and AltaAPI Software. |
| | PCIE4L-1553-3D-T | PCI Express Interface (4 Lane) with Three Channels of Dual Redundant MIL-STD-1553 with Dual Function (BC/Mon or mRT/Mon) Capability. Included: Thumb Screw SCSI I/O Connector (Must Use -T Series Mating Connector) and AltaAPI Software. |
| | PCIE4L-1553-4D-T | PCI Express Interface (4 Lane) with Four Channels of Dual Redundant MIL-STD-1553 with Dual Function (BC/Mon or mRT/Mon) Capability. Included: Thumb Screw SCSI I/O Connector (Must Use -T Series Mating Connector) and AltaAPI Software. |
| | Capability. Included: AltaAPI Software. | |
| | Options | Example: PCIE4L-1553-4F-ABE |
| | -A | AltaView SW Full Functionality Enabled |
| | -B | RT Validation SW Enabled (Two Channel+ |
| | -D | Direct Coupling (Price Per Channel) |
| | -E | Extended Temp (-40 to 85 Indust Components) |
| | -F | Conformal Coating |
| | -I | Tx Inhibit (BM Function Only) |
| | -N | NVRAM Write Disabled |
| | -V | Variable Voltage (Price Per Channel for PCI and PCIE4L Cards Only) |
| | Cables | Cable Assemblies |
| | SCSI-1553-X-01-T | SCSI to 1553 Jack Connectors (X=Channel Count) |
| | SCSI-1553-X-AUX01-T | SCSI to 1553 Jack Connectors with DB50 AUX I/O (X=Channel Count) |