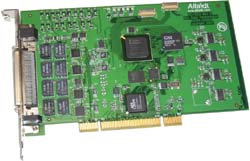 Alta Data Technologies has released a 1-4 channel MIL-STD-1553 PCI interface card that provides advance new features for communications (such as avionics, JTIDs, Link-16, SADL), test, and simulation. Alta Data Technologies' new 1-4 channel PCI MIL-STD-1553 interface card provides advanced new features for data transmission verification, signal capture (voltage measurement) protocol validation, data buffering and easy integration with a multi-layer ANSI-C/.Net/Labview application program interface.
New features such as transmission loop-back verification, A/D Signal Capture (to view and measure bus voltage), signal generator to generate complex test patterns for SAE AS4111/4112 protocol validation and multi BC, RT and Monitor buffering provide the customer the most advanced 1553 protocol engine features available on the market. When coupled with Alta's advanced analyzer, AltaView, or the RT Protocol Validation Package, AltaRTVal, the PCI-1553 interface provides incredible value for avionics applications.
Alta Data Technologies' 1-4 channel PCI MIL-STD-1553 interface card"The Alta PCI-1553 1-4 channel MIL-STD-1553 interface card is our most advanced design to date. The 1553 protocol engine, AltaCore, is embedded in an advanced Xilinx FPGA with high speed QDR RAM, providing fast host memory access to better system performance," says Jake Haddock, CTO of Alta. The same base architecture is utilized on Alta's PMC, PC/104-Plus and cPCI interface cards. All cards are available in commercial or extended temperature configurations (MIL-STD-1553 PMC, PC/104-Plus and cPCI are also available in rugged configurations.
An advanced, multi-layer API, AltaAPI, is provided at no cost with all 1553 cards and includes support for Windows, VxWorks, LynxOS, Linux and other operating systems. The PCI-1553 card is available now with costs starting at $3200. Contact Alta at 888-429-1553 (in US) or 505-994-3111 (outside US).