Overview
1-2 Independent, Dual Redundant PP194 WMUX Channels (Wings) - Available in Many Form Factors
Full Function CIU, RIU and BM Simultaneously
Selected by Lockheed for Standard F-16 Support
VxWorks, Linux and Windows Support
IRIG-B RX PAM and TX/RX PPS Time Sync
Standard VITA XMC Card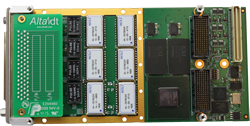 Alta Data Technologies' XMC-WMUX interface module (PCI Express Mezzanine Card for Carriers and Single Board Computers) is a single or dual-channel (A-B Redundant = 4 Busses per Channel) WMUX card supported by the latest software technologies.  This product is based on the industry's most advanced 32-bit WMUX FPGA protocol engine, AltaCore™, and by a feature-rich application programming interface, AltaAPI™, which is a multi-layer, highly portable ANSI C architecture.  This hardware and software package provides increased system performance and reduces integration time.
AltaCore-WMUX is guaranteed 16PP194 compliant and is manufactured to the highest IPC-Level 3 standards and ISO 9001:2015 processes. The card is capable of simultaneous CIU, 16x RIU and Bus Monitor (RIU Map and Sequential Monitor). Alta is committed to a risk-free integration and will be glad to help with any level of your system development.
Contact Factory for Part Numbers, Pricing, and Cable Options

Specifications
Key Features
1-2 Independent, Dual Redundant PP194 WMUX Channels (Wings) - Available in Many Form Factors
Full Function CIU, RIU and BM Simultaneously
Selected by Lockheed for Standard F-16 Support
VxWorks, Linux and Windows Support
IRIG-B RX PAM and TX/RX PPS Time Sync
Standard VITA XMC Card
Software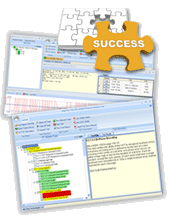 AltaAPI
Alta's 1553 and ARINC cards include the most advanced Application Programming Interface (API) library tools in the avionics industry, AltaAPI. The API architecture is a properly OSI modeled development package that provides an extremely flexible design to provide quick porting to various operating systems (such as VxWorks 5.X/6.X/7/MILS, Integrity, LynxOS RTOS), Linux 32- and 64-bit, Solaris 10, LabVIEW and 32- and 64-bit Windows 7/8/8.1/10.
AltaView Bus Analyzer
Alta's Windows avionics analyzer product, AltaView, provides the most modern technologies for MIL-STD-1553 and ARINC-429 network activity and data analysis. Win XP/Server/7/8/10 Compatible and VMware with ENET/NLINE Ethernet. Ideal for Cybersecurity Testing.

No Seat License or Dongles - Unlimited Software Updates