Alta's MIL-STD-1553 (AS15531) product line is second to none. The product line includes multi-channel interface cards for most computer backplanes and the industry's only real-time Ethernet converters. The software developmen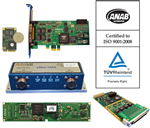 t kits, AltaAPI and AltaAPI-LabVIEW(tm), provides the best designed, abstracted and portable resource to quickly and reliably integrate a 1553 network to your application. Also, the AltaView analyzer Windows software provides a low-level, network analyzer to greatly reduce integration and troubleshooting time.
Most cards/devices have signal capture and signal generation capability, and the Alta hardware are the only interface cards that can both execute and pass the SAE-AS4111 5.2 protocol tests. Another proven level of quality and innovation. All cards/devices are available with Dual Function (BC/BM or mRT/BM) for Full Function (BC/mRT/BM) configurations.
Most 1553 Cards and ENET devices have optional 1553 Jack and AUX I/O DB cable assemblies.  Please see the respective product pages part numbers tab.  Also the login-downloads area (login required) has hardware manuals for each product.